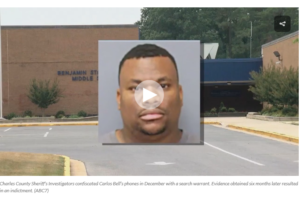 LA PLATA, Md. (ABC7) — LA PLATA, MD – As parents meet in La Plata Tuesday night to discuss the assault charges against former Charles County teacher's aide Carlos Bell, a backlog in state computer forensics labs is affecting that case and many more. Charles County Sheriff's Investigators confiscated Bell's phones in December with a search warrant. Evidence obtained six months later resulted in an indictment. Investigators say they found child pornography on Bell's phone. At least seven middle school aged boys, and possibly more were recorded by Bell's cell phone in sex acts, according to the state's attorney's office.
Speaking about the backlog, Charles County State's Attorney Tony Covington said, "The backlog, you're talking about months and months and months. Again, not because somebody is derelict in their duties, but simply because of the volume that they have and how detailed they are — especially on the computer side, these investigations have to be. We're going to wait. Hopefully the backlog will be cleaned up, but it's going to take more people, more resources."
7 On Your Side toured the Maryland State Police Computer Crime Lab in an undisclosed Howard County office park. It is staffed by four investigators, down from a few years past, according to State Police.
7 On Your Side ran the numbers. Maryland reports a backlog of 14 cases. Virginia handles more cases and has a larger backlog of 111 cases. The average wait time in Virginia for a complete evidence search is 346 days.
"They need more people. It's just that simple. To me, it's a state issue, but it's also a local issue," added Covington. "If the crime is committed and you have to wait 6 months to get the evidence, as you've already pointed out, they bad guy may be on the street, awaiting trial. In the meantime, he's out there doing bad things."
7 On Your Side is now talking to political leaders in the area, asking what they are planning to do to fix this evidence backlog. We're working on getting those answers.
Originally posted on ABC7 WJLA:
http://wjla.com/news/crime/7-on-your-side-state-digital-evidence-backlog-keeps-growing